Big Plans For National IPA Day On August 6
We know, we know. This "National Day of _____" thing has gotten out of hand.
July 16 is National Corn Fritters Day. March 30 is National Pencil Day. And May 16 is National Sea Monkey Day. Sea Monkey Day! We love a novelty aquarium pet as much as the next guy, but… come on.
Typically, we'd consider the fake holiday market a bit saturated, and we'd be loathe to trumpet a National Day of Anything. But we think of National IPA Day as the exception to the rule – a celebration worth celebrating.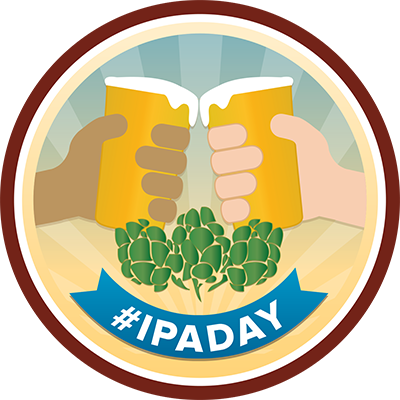 The proof is in the Twittersphere. Last year, the official #IPADay hashtag was used 22,877 times in a 24-hour span, according to Ashley Routson on  craftbeer.com, and it trended around the globe. All this because the IPA style "represents the pinnacle of brewing innovation with its broad spectrum of diverse brands, subcategories and regional flavor variations – making it the perfect style to galvanize craft beer's social voice."
And it has a special place in our hearts because Cape May IPA is CMBC's flagship beer, and the first brew we sold to client number one in 2011. (Coincidentally, 2011 was the inaugural year of National IPA Day, too.)
We thought we'd do something a little special next month to commemorate the occasion. So, without further ado, here's what's on tap at the CMBC tasting room August 6:
A special firkin of our Take Five Session IPA, which has been infused with extra hops and citrus flavor.
A special pin of Coastal Evacuation made with extra (flowery, citrusy, spicy) Amarillo hops.
A one-time release of Cape May IPA that's been dry-hopped a second time with wet hops.
For the uninitiated, dry hopping is the process of adding hops (flowers that lend flavor, aroma and bitterness to a brew) after fermentation instead of before. This way, more aroma is locked in to the final product. Typically, we do this to our IPA with two different hop varieties (Cascade and Chinook), and we do it one time only. The hops we use have been palletized, or processed in a natural way to preserve flavor, since harvesting season comes but once a year.
BUT!
We've recently come into some fresh-off-the vine (ie "wet") hops that were grown locally. The blend of Cascade, Chinook, Noble, Centennial and mostly Cascade flowers went from on-plant to in-beer within 48 hours, and the result is a piney, spicy, tangy, citrusy sort of deliciousness that you can taste for yourself on National IPA Day.
Take that, Sea Monkeys.